On a quick but productive review of "The Miracle of Engineering" – professional drone DJI Phantom 4 Pro. Quadrocopter with improved camera, new sensor system, enhanced battery and new "smart modes."
A professional photographer and traveler Kirill Umrikhin helped us to understand all the features of the new "Phantom":
And this is an example of shooting to the camera DJI Phantom 4 Pro in the daytime and in 4K format:
The main innovation in DJI Phantom 4 Pro is the camera. Instead of the previous 1 / 2.3-inch sensor with a resolution of 12.4 megapixels, it now costs four times the size of the 1-inch 20-megapixel (resolution 5472 × 3648) Exmor-R sensor, as in the Sony RX10 and RX100 cameras. According to the developers, this will provide a wider dynamic range and better picture quality, especially in low light conditions.
The new version of the drone writes at 100 Mbps and in the following modes: 4096 × 2160 30 frames / s, 4096 × 2160 60 frames / s and 1920 × 1080 at 120 frames per second (stream 80 Mbps).
Another important improvement is the new sensor system. The Phantom 4 Pro adds a rear pair of cameras, as well as side infrared sensors. As a result, the drone received a circular vision, which reduces the chance of accidental collision with obstacles.
DJI completes a new version of the drone with a battery with an increased capacity of up to 89.2 watts (15.2 V, 5870 mAh) vs. 81.3 Wh The old model (15.2 V, 5350 mAh). The declared maximum flight time also increased – from 28 to 30 minutes.
New "smart" modes appeared in the Phantom 4 Pro. Drone learned to return home on the same route, which flew to the point of loss of communication. Also, the user can draw a finger on the screen the route of the flyover of the copter in space. There are new opportunities for active tracking of the object, the function of intelligent automatic flight back from the specified point, as well as the possibility of shooting self-portraits using the control of droning gestures, as in the Copter Mavic Pro .
buy a remote with an already built-in display – it is not yet available for sale on the territory of Russia.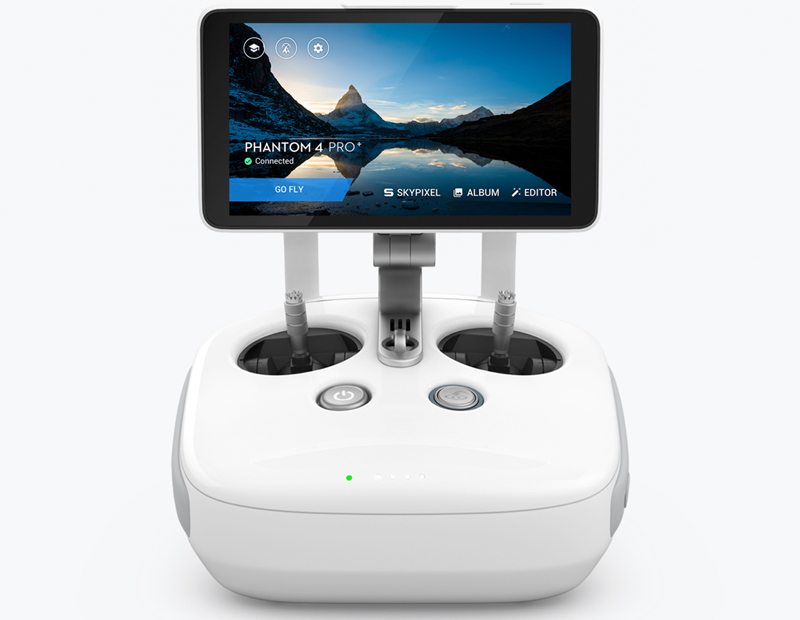 Buy DJI Phantom 4 Pro in Russia at an approximate price of 130 thousand rubles. [19659002] Thanks to the guys from coptertime.ru [1945900] 8] for assistance in organizing the shooting!
in preparing the material used data from the site 3DNews.ru